2020 Total Clarity Workbook and Planner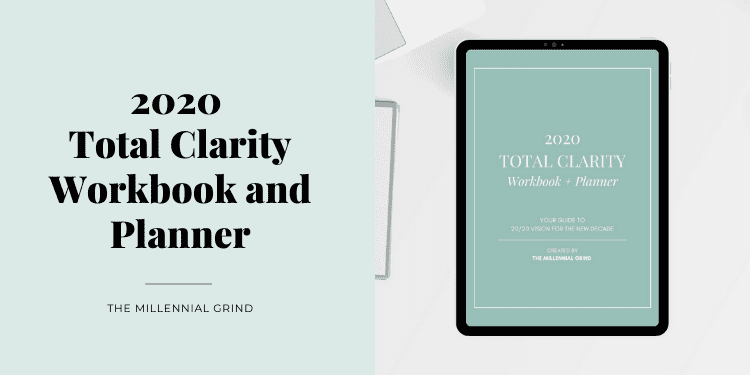 Introducing The 2020 Total Clarity Workbook and Planner
We're so excited to announce the launch of our new product – the 2020 Total Clarity Workbook and Planner. As we're nearing the end of 2019, we thought it would be the perfect time to create a product that will help you plan for the new year and new decade. This product is your companion to guide to total clarity in the new year.
Are you ready to step into the new decade with 20/20 crystal clear vision?
What Is It?
The 2020 Total Clarity Workbook and Planner is a 120-page workbook and planner designed to help you create your best and most successful year yet.
The Total Clarity Workbook contains exercises to reflect on your past, redefine yourself, and redirect your life.
The Planner contains quarterly reviews, monthly calendars, habit trackers, and reflections to help you set actionable goals and follow through with the execution.
Who Should Use This?
This Product Is Specifically Designed For Those Who:
Want to create the life of your dreams
Believe in the power of goal-setting
Take action to achieve your dream life
Have the motivation to power through obstacles and tough times
Take full responsibility for your life, beliefs, thoughts, and actions
Can't wait to have your best year yet in 2020
If you answered yes to any or all of these bullet points. Then you will LOVE this product.
What Inside?
Workbook

2019 Reflection
Define Yourself
Vision Board for 2020
Theme for 2020
Fear: Your North Star
My Ikigai
2020 Goals

Career
Health & Fitness
Relationships
Financial
Habits
Sustainable Living

2020 Bucket List

Planner

Monthly Planner for 2020 (Jan – Dec)

Monthly Calendar
Action Plan
Habit Tracker
To-Do List
Shopping List
Month at a Glance
Month in Review

Quarterly Goal Setting & Reviews

Appendix

Affirmation Ideas
Self-Care Ideas
Habit Ideas
Career Goals
Financial Goals
Motivational Quotes
Product Details
120 Pages
US Letter Size (8.5″ x 11″)
PDF Format
How Do You Fill It Out?
We recommend filling it out digitally on your computer or tablet. Alternatively, you can choose to print it out.
Shop Now