Founder of Lovingly Bold: How to Be Bold and Get What You Want In Life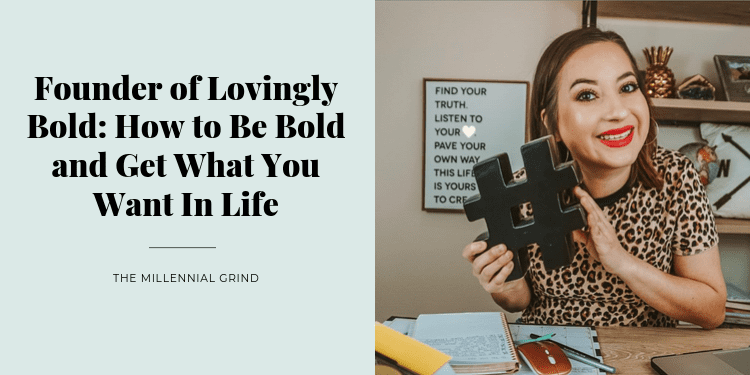 Last Updated on
For this Millennial Spotlight, we had the opportunity to interview the founder of Lovingly Bold. Wendy Ramirez is an expert social media strategist and she founded Lovingly Bold in 2017. She uses her background in marketing and experience in training to deliver 1-on-1 coaching and online courses to help her clients grow their business. Wendy is passionate about coaching her clients on how to be bold and go after what they want in life. Wendy's story is a prime example of combining your skills, experience, and passion to build a business you truly love.
Name: Wendy Ramirez, Founder of Lovingly Bold
Location: Texas, United States
Tell us about what you do. What does it mean to be "Lovingly Bold"?
I am a Marketing Coach who focuses on helping individuals' market their business in a way that creates massive visibility and client attraction. To be Lovingly Bold means leading with self-awareness and bold action. We are our own toughest critics and sometimes that lack of self-awareness keeps us from moving in the direction of our truest intentions. I believe that bold action needs to be taken every day, but it needs to be taken with great self-awareness. It is for that reason that I created Lovingly Bold to live out our unique purpose and journey.
How did you discover your passion for coaching?
I have management experience in the training and education field so naturally, I loved being able to coach people and educate them on tailored strategies that work for them. I discovered that I had a passion for coaching almost by accident! It started when I was told by a fellow follower that I should be a coach because of the value I was giving and how it was presented. I was so unaware that I had already been coaching so I decided to look into it because that idea lit me up. The idea of coaching sounded amazing and made me feel like I could leave an even bigger impact on people, so I decided to give it a go and I haven't looked back since!
ALSO READ: 10 Practical Tips to Find Your Dream Career
You have 10k followers! What are your tips for building a social media following?
Lead with a serving attitude and nurture your community! It takes time and it is not something that happens overnight especially if you intend to connect with your ideal client. I would say that one of the things that helped me was collaborating with like-minded individuals off and on social media platforms. Collaborating helped with brand exposure.
I would also say that networking is the second leading factor. Connecting with people daily and genuinely getting to know them will help build a loyal community. This helps build reputation and trust amongst your community and when done correctly it opens doors of opportunities for businesses. Social media is made to be social and that is how any business owner should use it as well if they want their business to grow with it.
I heard that you're launching a masterclass for social media marketing. Congrats! Tell us what we can expect.
Thank you! My Mastermind is my first group coaching program that still offers a touch of private coaching at a lower investment. My goal was to put a program together that helped emerging entrepreneurs build their online presence and get that presence going in the right direction. Through this program, my clients will learn not only how to use social media effectively but how to partner it with their business to create success!
What's the biggest lesson you learned since starting your business?
My biggest lesson is to be bold in the pursuit of what you want in your business. When you are first starting, it's hard work and to top it off there a lot of limiting beliefs that are to be dealt with. Because of that, I believe it is important to start narrow at first and then expand from there. This allows you to focus on one thing and gradually widen the focus onto more things in the future.
Also Read: Home Baker on Balancing Her Career and Side-Hustle
What's your best piece of advice for new entrepreneurs who are just starting out?
Keep going and don't be afraid to seek help when you need it. A lot of people lack patience and give up when things don't go as planned. It's at the point of wanting to give up that a person should push even harder. Entrepreneurship is hard work and you will have ups and downs. When you're presented with these moments it is actually the perfect time to reflect, pivot and seek help when you need it. A lot of people are scared to reach out for help because they are scared to look weak or scared that they won't see any changes. It's that fixed mindset that keeps us stagnant and to that, I say keep going and get the help.
Where do you see yourself in 5 years?
I would love to picture myself owning and running a digital marketing agency. I would love to take Lovingly Bold to that next level and it excites me to think about it. Also, I see myself being called to speak on stages to help impact more individuals! One of my biggest dreams is to speak in front of many people and leave that stage knowing that I left an impact and fueled their desires for more.
Rapid Fire Questions
Favorite Quote
"Change is the law of life. And those who look only to the past or present are certain to miss the future." Inspiring words by John F. Kennedy
Favorite way to destress?
My number one way is to dance followed by a mask and good wine!
Netflix or YouTube?
YouTube!
Favorite social media platform?
Instagram for sure!
Next vacation destination?
I am dreaming of going to Bali, Indonesia in 2020!
Read Next: The Best Careers According to Your Enneagram Type