From Engineer to Entrepreneur: Sabrina Woodworth Reflects on Her Dynamic Career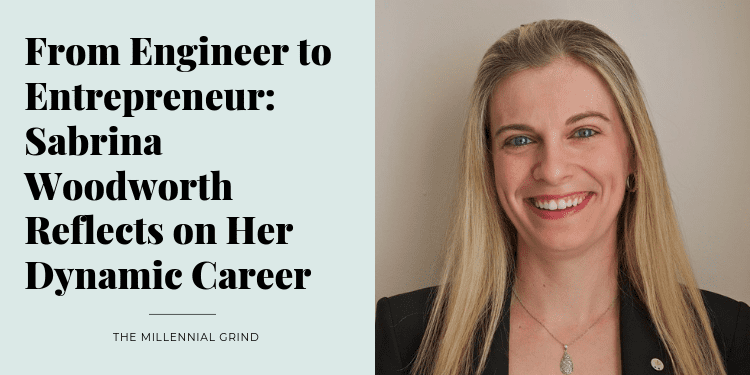 Sabrina Woodworth is an engineering project manager and the founder of Work Lessons 101. From working overseas in Mongolia to pursuing her entrepreneurial dream. Sabrina's career embodies the meaning of Sheryl Sandberg's quote – "careers are a jungle gym, not a ladder." In our interview, Sabrina shares her favorite moments from her decade-long career and how she is using her skillset to help aspiring professionals make the most out of their careers.
Name: Sabrina Woodworth, Founder of Work Lessons 101
Location: Vancouver, Canada
You've had a fascinating career. What made you choose engineering?
My path to choosing engineering started at the age of four. Looking back, it was apparent that I had a general interest in math and science from a young age. One boring Saturday afternoon when I was four, my older brother decided to teach me multiplication and division tables. After that, I was hooked, and math became my favorite subject through elementary and high school. This was amplified when I was diagnosed with severe dyslexia at the age of six. I couldn't read or write until I was nearly nine years old. During this time, math was my shelter from feeling stupid. No matter how hard the problem was, I could solve it. I had some strong teachers as a young student who would read me math problems and allow me to solve them verbally until my reading and writing caught up. Since I preferred math, I decided to enter engineering at university, as there was more math in engineering.
What is the biggest risk you have taken in your career? What's your biggest takeaway from it?
Five years into my career, I had the opportunity to spend 16 months living and working in an International Mining Camp in Mongolia. I was allowed to assist in the construction of a copper concentrator and stay through the start-up of the plant. When I accepted this opportunity, my ultimate goal was to learn as much as I could about the Engineering and the Mining Industry. What I received from the assignment far exceeded my expectations. At the job site, my knowledge and skills increased as I rotated through four positions that covered several disciplines.
My career game-changer occurred when I volunteered to lead the start-up and turnover of the Fire Water System.
For what should have been an easy system to turnover – just three pumps, and a few manual valves, it quickly became a great challenge. All 3 pumps were either damaged during shipment or inoperable. At the same time, the Fire Water System was down and the Mongolian Government Safety Representative was coming to conduct a site check. If the official was not content with our progress, he had the authority to shut down the entire site. All of a sudden, the Fire Water System became a top priority and even got the attention of our Client.
With some innovative thinking and teamwork, we were able to get the Fire Water System up and running. I never thought that getting the Fire Water System operating would be a great success, but it ended up being a game-changer during my time on site. I was approached by a Senior Mechanical Superintendent, who observed how I solved this issue and was offered a spot on his team.  I immediately said "yes" to his offer and I got an amazing mentor for the next several months.
By showing discipline, following through on my word, and seeing the job through until I got the desired results, I was able to gain the respect of my colleagues and some amazing opportunities were presented to me. I was promoted to an Area Commissioning Lead. In this position, I got to lead, schedule, and train operators. We conducted full system turnovers to the client. Once the project was complete, I felt and acted like an experienced and tested engineer.
My biggest takeaway from this experience and my advice to aspiring professionals: if you want to be accepted as an equal, and respected as a professional, go out and get results. Do not run from your responsibilities at the first sign of difficulty.  I asked my mentor at the site why he wanted me to join his team when there were many other choices and his answer was 'because I cared enough to see a project to the end, and he needed someone who would finish.'
My advice is simple: look for opportunities to gain experience, knowledge, growth, and be the solution.
You've recently launched Work Lessons 101. Congrats! What can you tell us about your new endeavor?
The goal of Work Lessons 101 is to create a community where all aspiring professionals can openly share work lessons to progress their careers and reach their goals.
I was at a crossroads in my career back in 2017. I was no longer feeling passionate about what I was doing and wanted more fulfillment from my career. I had a new mentor assigned to me at work and we were discussing a potential move into Talent Development. Helping others was something that had always given me a great deal of pleasure. Although he was supportive of this, he did point out that I had very little experience in this area. Over the following month, through reviewing my old resumes and reading my old journals, I discovered that I documented the first few years of my career rather accurately… this was the birth of Work Lessons 101.
What if I turn my lessons into a helpful book that can teach other aspiring professionals the ropes of the Corporate world? I realized, that if I write this book, then I can differentiate myself and move into Talent Development…. And so, it began.
For the next year, I wrote every weekend and eventually finished my book. Then came the phase of marketing the book, which is the phase I am executing at the moment. At the same time, I am finalizing edits and beginning to look for a publisher.
The next phase will be to develop courses targeting career development. Specifically, through three critical areas: establishing your credibility, building a strong reputation, which will convert into an influential and diverse network of contacts.
I heard you are writing a book. Can you give us a sneak peek on what it's about?
The book is called Work Lessons 101 – What they Don't Teach in School. It's a book, which targets career development to aspiring professionals, transitioning from college to the work environment, especially the Corporate World.
Through 8 themes, and 101 critical work lessons chapters, the book will help prepare young professionals for their post-academic life and assist in preventing them from making rookie mistakes.
I remember being in my last year of University and beginning to think about what job I wanted after graduation. I was only thinking of a job, not a career. The goal at that point in my life was to simply graduate with my engineering degree and pay off my student loan. I had not spent any time thinking about my future career or what I wanted to spend the majority of my adult life doing. In retrospect, this was a major mistake.
Looking back at my academic life, I am shocked by how little my higher education prepared me for my career. Five years of education and over 150 college credits later, not one of those credits was spent teaching me how to create a career development plan, how to write an effective resume, how to prepare for an interview nor how to sell myself to an employer. I'm not here to criticize our education system, I'm here to share the lessons I have learned from the first decade of my career, which will help aspiring professionals navigate the Corporate environment.
The book is dedicated to inspiring and assisting professionals with their career progression by teaching one Work Lesson at a time.
Source: Pexels
What's the best piece of career advice you've ever received?
"Failure is a huge part of success."
Making mistakes is part of the learning process when you start your career. You will make a lot of them and that's perfectly normal. Never allow failure, obstacles, or setbacks to impede you from reaching your goals. You will hit roadblocks throughout your career or you may need to change direction. No matter what, never stop and get out of the car; just keep driving.
The truth in the matter is you learn more from your mistakes than you do from easy successes. The lessons I have learned from all my experiences have taught me when you are entering into an unfamiliar realm there is no airbag to take the impact if you fail. You always feel slightly uneasy, anxious and tense, as you don't have a playbook to go by. The secret with this is to stay uncomfortable and to not let the fear of failure hinder you. If you allow this fear to get the best of you, you may never reach your potential, and this can cost you. Your dreams may remain a dream and never become a reality. Instead of fulfilling your dreams; you will be a hostage to them.
Throughout my career, I found some of the most memorable and rewarding experiences that came from the ones that required overcoming obstacles along the way. The feeling of accomplishment came from knowing these obstacles didn't stop me from succeeding. Failure is only permanent when you stop trying. From my experience, and as T.J Watson so elegantly summarized, success is usually found on the far side of failure, so keep pushing forward and have the confidence to know with hard work and persistence you will get there.
What's next for you and your career?
I'm currently off for a year on maternity leave and working on editing and promoting my book. The next phase of my career isn't yet clear. My immediate goal is to publish my book and to roll out my courses (both online and in the classroom). I will also continue to build up the Work Lessons 101 business.
I'm a Project Manager within the engineering and construction industry and will be moving into Talent Development consulting in the future. All the while, I will continue writing books and developing courses designated to build successful careers.
Rapid Fire Questions
Favorite Quote?
"Someone's sitting in the shade today because someone planted a tree a long time ago." – Warren Buffet
Dream vacation?
At a cabin in the middle of nowhere, during the winter, snowboarding down fresh powder.
Last item you splurged on?
iMac Computer
Favorite way to relax?
Reading a book on a rainy day or writing, while I listen to music
Guilty pleasure?
A good movie with buttery popcorn.
If you could have lunch with anyone, who would it be and why?
Albert Einstein – He has been a hero of mine since I was a child and would love to have a conversation with him about life and human potential.
Read Next: Home Baker on Balancing Her Career and Side-Hustle