Top 12 Best Enneagram Tests (with Free Options)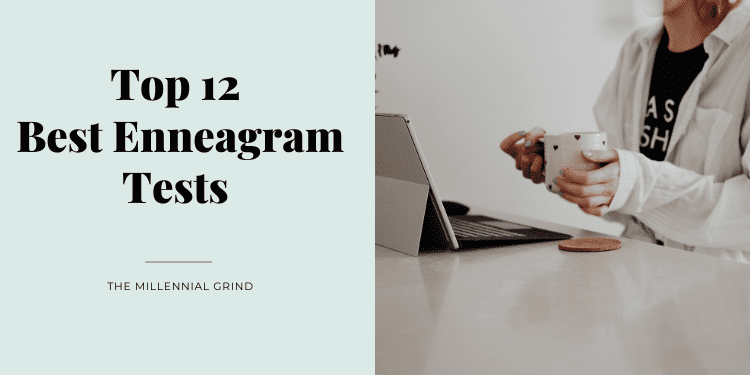 Last Updated on
Introducing Enneagram
Move over Myers-Briggs Personality Test; there's a new kid in town – The Enneagram.
The Enneagram is a personality typing system that consists of nine different types. Every person belongs to one of the nine types, although one can have traits belonging to other types.
Some of you might be asking – "Do we really need another personality test?" Absolutely! Here at The Millennial Grind, we are all about personal development, so we are big advocates for learning more about yourself.
The Enneagram is a useful guide on your journey towards self-development, relationship building, career paths, and the improvement of team dynamics.
Fun Fact: "Ennea" means "Nine" in Greek
According to The Enneagram Institute, there are nine Enneagram types with the following descriptions.
Every Enneagram type has its own strengths, weaknesses, desires, and fears. You can try using Enneagram affirmations to realign with the core values of your type.
1. THE REFORMER: The Rational, Idealistic Type: Principled, Purposeful, Self-Controlled, and Perfectionistic
2. THE HELPER: The Caring, Interpersonal Type: Demonstrative, Generous, People-Pleasing, and Possessive
3. THE ACHIEVER: The Success-Oriented, Pragmatic Type: Adaptive, Excelling, Driven, and Image-Conscious
4. THE INDIVIDUALIST: The Sensitive, Withdrawn Type: Expressive, Dramatic, Self-Absorbed, and Temperamental
5. THE INVESTIGATOR: The Intense, Cerebral Type: Perceptive, Innovative, Secretive, and Isolated
6. THE LOYALIST: The Committed, Security-Oriented Type: Engaging, Responsible, Anxious, and Suspicious
7. THE ENTHUSIAST: The Busy, Fun-Loving Type: Spontaneous, Versatile, Distractible, and Scattered
8. THE CHALLENGER: The Powerful, Dominating Type: Self-Confident, Decisive, Willful, and Confrontational
9. THE PEACEMAKER: The Easygoing, Self-Effacing Type: Receptive, Reassuring, Agreeable, and Complacent
READ NEXT: 9 Must-Read Enneagram Books
How Do I Find My Enneagram Type?
As Enneagram is growing in popularity, so are the number of sites offering Enneagram Tests. With all these different test options available, it can be hard to find the best test for your needs.
Whether you're a personality test newbie or an Enneagram fanatic, you can find a test that meets your needs.
Here is a compilation of the top 12 best Enneagram tests available. Most of the tests are free, but some websites require your email address in order to view your results.
Additionally, there are paid options for individuals who want an in-depth analysis of their Enneagram personality type.
Like any personality test, Enneagram Tests may not give you a completely accurate analysis of yourself.
Personally, I think doing an Enneagram Test can be very useful in at least providing some general guidance towards one of the nine types.
After you get your results, you can explore that type further by reading Enneagram books or Enneagram podcasts.
However, it's good to keep in mind that these tests may not be 100% accurate and you may need to do some digging in order to validate your results.
Also Read: The Best Careers According to Your Enneagram Type
Top 12 Best Enneagram Tests
1. The Millennial Grind
2. Truity
3. Crystal
4. Eclectic Energies
5. Enneagram Academy
6. Enneagramtest.net
7. Loner Wolf
8. The Enneagram Institute
9. Integrative 9 Enneagram Solution
10. EnneaApp
11. 9 Types
12. Similar Minds
Top 12 Enneagram Tests Reviews
Looking for a free, quick, and hassle-free Enneagram test? We created our own test for those who are just venturing into the world of Enneagram.
Many people simply don't have the bandwidth to go through a 30-minute test so we created this simple quiz for all you busy bees out there.
Our Enneagram test is designed to be completed within 5 minutes.
Features:
Super Quick – Only 20 questions long.
Instant Results – No email address required.
Simple – Binary answers – Yes or No.
Truity offers a superb Enneagram Personality Test that is easy to do and offers accurate results.
After you complete the test, Truity offers a sample report for free but you will need to pay $19 USD to unlock the full report.
The user experience is smooth and the free report is well-designed. The free report will offer you insight into your Enneagram scores, a brief explanation of your Enneagram type, how much your personality matches with the 9 Enneagram types, and what makes you unique and stand out from others.
Crystal offers a simple, quick Enneagram test but requires you to make an account to view your full results.
The main advantage of Crystal's Enneagram Test is to see how your Enneagram type plays into other personality indicators such as the DiSC assessment, Myers-Briggs personality test, Big Five Assessment, strengths, and values.
Once you create an account, you can see your comprehensive results of all these tests and it offers you insights on what energies you, what drains you, and your natural talents.
The Enneagram report itself is more brief compared to the other tests because Crystal relies on a combination of tests when it comes to generating your personality analysis.
Eclectic Energies is your basic no-frills Enneagram test. They offer TWO types of Enneagram tests. The classical Enneagram test which consists of 14 pages of in-depth questions. If you are short on time, they offer an alternate version of the Enneagram test which is based on character traits.
One major advantage Electic Energies' test has over the other tests is it gives you your wings in addition to your Enneagram type. This is perfect for Enneagram enthusiasts who want a complete understanding of their Enneagram profile.
The best part about Eclectic Energies is you get the results immediately after completion. No email sign-ups, no subscriptions, nada!
You can also download a PDF of your test results so you can save your results to share with a friend or for reference whenever you need it.
Aside from the test, Eclectic Energies offers other information on the Enneagram, so you can do a deep dive on the personality system if you wish.
Overall, it's a free, fun, no-obligation way to find out your Enneagram personality type.
Enneagram Academy offers a sampler version of the RHETI test (read more about the RHETI in the Enneagram Institute review below).
Instead of 144 questions, the sampler is FREE and contains 36 questions only.
Please note that your first name and email address are required to receive the test results.
If you are looking for a super-quick and easy way to find out your Enneagram Type, then you will love the Enneagram test offered by Enneagramtest.net.
There are only 36 questions, so you won't get bored during the process. The test results give you your three strongest types based on your answers.
However, there is a chance this test is overly simplistic compared to other Enneagram tests so the results may not be totally accurate. Aside from that, you must provide your email address in order to view your results.
After you take the test, you will have to wait for 60-seconds to get your test results. The website uses this time to allow visitors to make a donation to support the website.
Lonerwolf offers another quick option to find your Enneagram personality type. This test is only 36 questions long and it takes around 5-minutes to complete.
At the end of the test, you are asked to provide your email address to receive your test results. But you can also choose to skip this step and obtain your results directly after the test, which is great.
Aside from the test, LonerWolf offers many other articles on all things related to spirituality.

The Enneagram Institute offers the Riso-Hudson Enneagram Type Indicator test, also known as the RHETI. According to the website, the RHETI is a scientifically validated, forced-choice personality test with 144 paired statements.
The test takes about 40 minutes to complete. Instead of just telling you which Enneagram you belong to, you receive a full personality profile across all nine types in a PDF format.
At $12 per test, the RHETI test offered by the Enneagram Institute is an affordable, entry-level option for Enneagram newbies.
Besides offering Enneagram tests, the website offers a wealth of information on each of the Enneagram types in an easy to navigate format.
The Integrative Enneagram Questionnaire claims to be the most accurate Enneagram test on the market.
The test consists of 175 questions and it will take you about 30 minutes to complete.
The website looks very professional and there are lots of user reviews featured throughout the website; therefore, it appears to be quite credible.
The major downside is the price. Depending on how detailed and how many pages you want your personality report to be, the price can range from $60 USD to $120 USD.
This is probably not the best option for an Enneagram newbie, but if you are super into it and want a reliable and accurate report then you should give it a try!
9 Types offer a quick way to find out your Enneagram type because the test only comprises of 36 questions. Each question poses a choice between two statements.
This test should only take 5-10 minutes of your time to complete.
Best of all, you receive the results immediately and you do not need to provide your email address to receive your rest results.
Another option to determine your Enneatype is through the free Enneagram test by EnneaApp. The app is free to download from The App Store and Google Play. You have to option to pay $2.99 to unlock the full version for more features.
The EnneaApp test results will point you towards your top three most likely types. This is a great way to narrow down your options (out of the 9 possible types), so you can further explore and validate your type on your own.
EnneaApp is perfect for both the beginner who wants to type themselves and learn about the nine personality strategies and the advanced Enneagram student who wants to deepen their knowledge and access Enneagram material on-the-go.
Similar Minds offer a 60-question Enneagram personality test, and it will take you around 15 minutes to complete the test.
One disadvantage of the website is the test may be hard to read for some people. Everything is grey and my eyes felt a little strained by the end of the test.
Results are displayed after completion and no email is required to view your results. The results provide you with your main Enneagram type, your variant, and your level of health.
Download Your Enneagram Planner
Dive deeper into the world of Enneagram with an Enneagram Planner.
This 11-page printable set is perfect for Enneagram enthusiasts who want to use their Enneagram type for personal growth, relationships, and self-discovery.
Learn More About The Enneagram
Check out this awesome infographic for a quick overview of The Enneagram.